The technology that allows me to describe to the world what I'm eating while sitting on a tram also just meant that with the touch of a finger, I just discarded an email which was my blog post. Here goes again. [Then I got distracted with shopping and didn't write a lot more for some weeks. Here goes again again!]
Melbourne!

Day two, which was really only our first morning began well. We found a bakery style shop a very inter-cultural vibe -cheesecake, pork buns, custard donuts, sesame balls, ham and cheese roll things, and lots more. In fact it was so good that we went there for breakfast every day for the rest of the trip!
Couldn't get enough of the sesame balls, pork buns, and custard donuts (etc) - all perfect breakfast fare!

Now that is a little in the past, I can't remember as many of the culinary/shopping details of each day - but maybe thats a good thing for anyone that reads this. In summary of the shopping - we went to many shoe shops, and quite a few other shops. I was after wedding shoes. Despite finding some I really liked in the nearly first shop - about 500m from our hotel, it took me another day to decide they were the ones, and then another day for them to get a pair in the right size from their other shop, and then another day for me to decide actually they were too tight and I'd get the other size after all! In the mean time, I bought a pair of boots, pair of black work shoes and another cute cheapie pair that are confused as to whether they are sandals or not! Those 3 pairs came in together for less than $150. I won't mention the wedding shoes - but I love them! I also snagged a couple of handy workshirts and some cool dresses!

On one of the days, after a solid bout of shopping, we needed a little rest.. a sit down, and something to drink. A helpful shop girl somewhere suggested the new Lindt Cafe which was just the thing - just a short queue, for a very very tasty hot chocolate, and beautifully subtle creamy icecreams. Good thing it was tasty, because they clearly had a change of shift or something and left our 'hot' choc sitting there for a bit!
(It was better than the picture shows, but after being arty with my camera/phone, I began to spill the milk, so then I had to pay attention to get my value for money - it wasn't a cheap hot chocolate!)
On Saturday, with Tim in tow, we braved the Southern Cross DFO - along with many footy fans who were down that way watching some team or other be beaten by another team. Before we even got there, we found Tim a pair of bargain wedding shoes for him - camper shoes no less! He saved hundreds and they were quite reasonable in the end, and the only pair left was the perfect size for him. We also had great success at the DFO - including a wedding shirt for Tim.
Enough about the shopping - and a little more about the eating.
Thursday night Mum and I had a fantastic meal at the Wine Bar. We'd been on a hunt for some other place, and couldn't find it, and when our feet could carry us on further, and the two of us couldn't make our fancy phones find the place Mum had in mind (though apparently it was nearby but through a little door to upstairs!) we gave in and went in a warm looking place. There was a skinny bar area and then a long table with lots of people along it. We pulled up stools at one end and had a fantastic meal and didn't even feel like we were right next to lots of people. That is, until near the end when a new couple sat opposite us, clearly on a date and we couldn't help notice the lack of conversation skills on the man's part - she kept trying to start conversations, then he'd just talk about himself a bit and never ask her anything - it was hard to not listen!!

We planned to have a cocktail together, but since we ate at a wine bar, opted for a delicious wine with dinner and a dessert wine each as (another) treat
Friday, our culinary highlights included breakfast at the asian(ish) bakery, lunch at Movida, and dinner after Tim arrived, at a delicious Lebanese restaraunt. Apparently I'd been there before, and slept on my sheep skin under the table. At the end of the fantastic and substantial lebanse banquet the cook came out of the kitchen and said hello and made sure we'd had a good meal - I'm told she was the same homely Lebanese woman as about 20 years ago! I did get in trouble when I asked for Turkish coffee as my after dinner drink - just because it was Lebanese place! Apparently I should have said Lebanese coffee, but what about Lebanese delight?

Movida with mood lighting, and us being phone/foody geeks!

Movida, a favourite Spanish Tapas bar provided a good range: the classic and irresistable anchovie with tomato sorbet, a stunning egg dish with truffle, and some other delicacies. Dessert was goats cheese icecream with a tart/flan kind of thing.. delicious!
Movida's alley is full of graffiti - very cool!

On Saturday, after breakfast at the favourite bakery, and the day at the DFO, we met up with some of Tim's friends for Vietnamese. After some consideration, we picked a place in Victoria St - the Vietnamese heart of Melbourne, and settled in for (another) great feed. The classic Vietnamese salad was a hit, and the other flavours were all unique and authentic and most enjoyable.

Sunday, we nicked into Federation Square and Tim and I had a look at the exhibition that was on - which was a fantastic John Brack collection. I'd seen some before, but still thoroughly enjoyed our gallop through. Before we started however we needed some coffee:
Then we had to rush off because every trip to Melbourne should include yum cha, and we were running out of hours! We fitted in a top quality yum cha meal from the Dragon Boat Palace, about 3 places down from our hotel. We shared lots of different dishes and enjoyed catching up with my aunt and uncle, Hilary and Martin and another friend Hilary!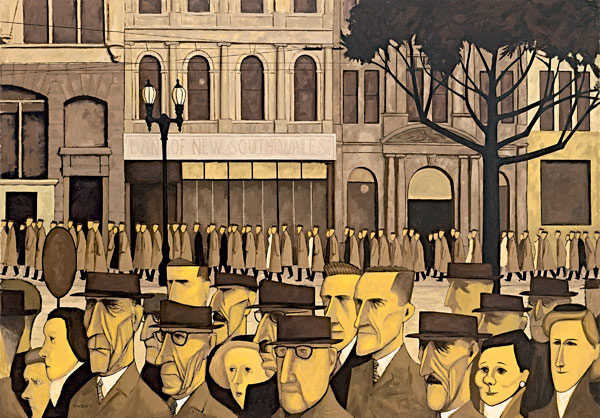 John Brack pic

And then, it was time to go home - Tim and I to Launceston, and Mum to Hobart. And that was the end of a successful foody and shopping trip to Melbourne!
More shots of Movida's alleyway:
There was also a bride and groom wandering down on the way to Movida getting photos taken! Pretty cool!